Introduction
My volunteering in Alicecode was supposed to be temporary. There was a call for engineers to prepare four girls, ages 12 to 16, for an international conference. They needed help with their language and presentation skills.
At the first meeting with the girls, I was amazed. I can't tell what excited me more: Seeing twelve years old girls coding, or seeing them simulate a workshop in a foreign language, aimed for a room full of people!
These are two things I couldn't even dream of doing when I was their age. Lecturing in my native language would've sounded terrifying for me, and programming wasn't even in my awareness. That is exactly the reason AliceCode was founded.
It may seem like an ad, but I inserted that commercial because I was moved by it. I am at the stage where my perception of the term "like a girl" has changed and then changed back. Now I want my actions to pass forward the idea that "when you tell me to run like a girl it means to run as fast as I can".
Let's talk about facts
Women represent 50% of the world's population but constitute only 24% of the workforce in technological fields. Furthermore, the majority of the female workers in a technological field do not hold a Tech Management position.
Nastia Ochakovsky, the founder of AliceCode, is certain that technological education is a must. The following quote shares the factors she believes lead to a lack of experience among girls:
● Each time I met new girls in our program, they experienced a fear of trying technical tools and a lack of confidence.

● The girls felt the need to constantly be the best at what they did. This demand is not always possible in a technical field. Most of the time is spent on fixing bugs.

● The girls succeeded the most when they received group support, but at school, they are a minority. The social network is always a top priority.

● Today's children — as a new generation — need fast results. They expect and demand to "have it all and have it now!".
Along with a lack of role models — this leads to a lack of choice to partake in technological career paths.
So, what can we do?
First, We can teach the girls English — the main programmers' language.
Second, We can teach them how to critically search the internet.
Third, We can encourage them to find solutions.
Finally, the most important skill that we can teach them, is to be independent and self-learning. Try and learn by themselves before going to ask a teacher.
AliceCode's community is built on four factors:
Technological literacy — Learning and trying different technologies.
Computational thinking — Understanding how the technology works; Breaking a big problem into smaller ones. Using algorithm design; Finding patterns, and thinking abstractly.
Creativity — The most important ability required to break patterns and to create technology.
Communication — In AliceCode, communication has an important role. We create various teamwork situations with cross-stages connections (engineers, students, teens to 10-years girls). The girls learn how to solve problems together, how to manage time, and how to create dialogues between teams and with mentors. In addition, we practice standing on stage and discussing technical issues; provide support to others, and leadership.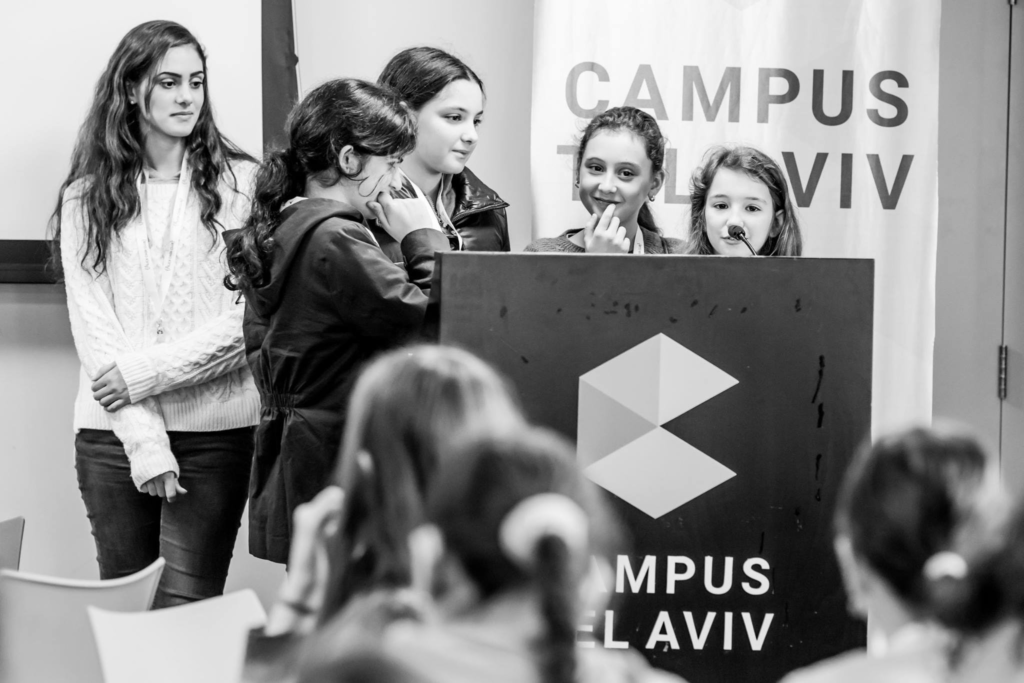 In other words: trying without fear of failing, breaking things into smaller parts, creating, and building. All of that, while communicating effectively, with excitement.
This allows the girls, not just "use" the technology in a passive manner, but to become proficient in it, engaged, and proactive!
A brighter future
In this way, more women will receive a chance to learn and work in technical fields. More than that, with the AliceCode program — these women will not only "work in Hi-tech" but will also be able to choose elite positions without fear, while achieving the best and highest results, and with a large amount of community support.
Sure, it will not happen "all at once". It is a process. However, it is well worth the investment of effort and the wait. The results will be positive and exciting — for girls, for women, as well as for society and technology!
---
My volunteering was supposed to be temporary, but I wanted to stay. I had to witness this amazing change happening in front of my own eyes. The things I love most are passing my knowledge and experience to the younger generation, and working with inspiring women I look up to.
Want to join? AliceCode is a non-profit organization and has various open positions!
Considering joining? Send me a message and we will talk about it!
For more information, please contact: https://www.alicecode.org/contact